Nursing associate dean focuses on Latino sexual health
The AIDS epidemic was peaking as Antonia Villarruel started a faculty position at the University of Pennsylvania, and she realized there were no interventions developed specifically for Latino youth.
Several decades (and a move to the University of Michigan) later, Villarruel remains focused on reducing sexual risks among Latino adolescents. Here, she works in the School of Nursing as a professor and the Nola J. Pender Collegiate Chair in Health Promotion, as well as the associate dean for research and global affairs. 
While her original research was in assessing children's pain, Villarruel says she was inspired to work with her community in southwest Detroit during her dissertation.
"I realized that the biggest impact I could make was not in the area of children's pain, but because I am Mexican American and bilingual I could have a great impact working with Latino communities on health issues. My previous research made me appreciate the power of evidence and of research in improving health," she said.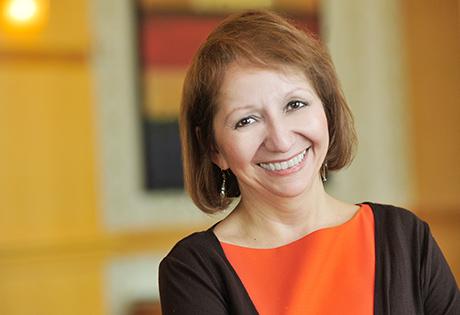 Antonia Villarruel is the associate dean for research and global affairs at the School of Nursing. (Photo courtesy of the School of Nursing)
Villarruel currently works on a community-centered program to reduce unwanted pregnancy and sexually transmitted diseases, including the rates of HIV, among Latino and Mexican youth.
Her work has helped to create an infrastructure for nursing doctoral education and research in Mexico, and has led to national distribution of the evidence-based program. Now communities across the country can use ¡Cuídate! (Take Care of Yourself), her innovative bilingual program that incorporates cultural beliefs like familialism to support Latino youth.
The curriculum helps adolescents develop the knowledge, attitudes and skills to make safe decisions regarding sex. Villarruel receives feedback from facilitators around the country about issues and successes in teaching and engaging the youth in their communities, which is used to improve the program.
Currently, Villarruel is testing a Web-based program for parents designed to support their adolescents by fostering communication and is also working with the Puerto Rico Department of Health and Education to train teachers and health educators to use ¡Cuídate! in the classroom and other settings.
"I love the research and work that I do, because it touches everything," she says. "I have impact at many different levels — the individual, family, community and policy," she said.
Being at U-M has allowed Villarruel to expand her research. "The commitment to social justice, diversity, and equity is high at Michigan, it's not just what we at Michigan aspire to — it is what we do."
Q and A
What moment in the classroom or lab stands out as the most memorable?
I was doing an evaluation of my course at the end of the semester with a group of doctoral students. They told me they were interested in traveling with me to a professional conference. Two of our students were from Thailand — so we decided to submit a symposium proposal to a conference in Thailand. It was accepted and we had a memorable professional and personal experience. I am proud to work with two of these students — here and in Thailand — as colleagues.
What can't you live without?
My family.
What is your favorite spot on campus?
Ingalls Mall. You can see everything going on, but it's peaceful, and just iconic Michigan. 
What inspires you?
People inspire me. Hearing about their accomplishments, what they've done, how they've gotten there, hearing their stories. You can find inspiration in just about anybody.
What are you currently reading?
"The Sun Also Rises" by Ernest Hemingway. I read "The Parisian Wife" and realized I had never read anything by Hemingway, so I wanted to read his works. 
Who had the greatest influence on your career path?
I am fortunate to have had many mentors and colleagues in academia and in the community who have helped shape my thinking and provided me with generous support.