Munger Residences utilize modular design
Today is delivery day at the Munger Graduate Residences construction site, as 109 pre-assembled bathrooms packed in steel crates arrive three at a time on semi-trailers.
Assembled since March at a Walbridge leased facility 7.5 miles away in Dexter, the units — complete with showers, sinks, cabinets and towel racks — were the first among 730 to be delivered in coming months. The site is on the north side of East Madison Street between South Division and Thompson streets.
Modularity is not a new process in the construction industry. U-M used a similar approach for the recent Lawyers Club renovation, as the majority of the bathrooms were built off-site as modular units and trucked to the Law Quad.
"This approach is primarily being used to construct the building more quickly than otherwise would have been possible," says Deanna Mabry, associate director of architecture, engineering and construction. That's because portions of work can be done out of sequence, or ahead of a traditional schedule, which calls for walls, floors and ceilings to be built before the start of bathrooms and finishes.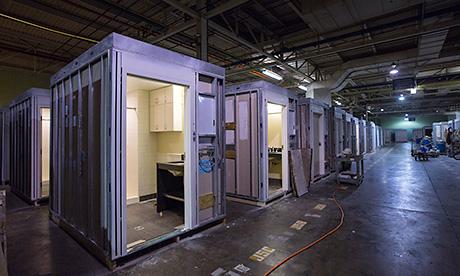 Modular bathrooms for the Munger Residences are constructed at a warehouse in Dexter. (Photo by Austin Thomason, Michigan Photography)
The approximately 370,000-square-foot, eight-story building is scheduled for completion in summer 2015. The $185 million project started in late August 2013 with demolition of existing structures. The installation of an earth retention system followed in early October 2013.
"Although it was a brutal winter, the project remained on schedule using selective overtime and weekend work," says Eric Smith, U-M construction project manager.
In March, pre-cut bathroom materials ordered from manufacturers — walls, supports and more — started arriving in Dexter. Since then, 34 carpenters, painters, plumbers, electricians, tile setters and laborers have been working to produce complete bathroom units.
Bathroom factory
Inside the facility on Zeeb Road, neatly stacked metal studs can be spotted in a chest-high pile, among other stacks of materials.
"This is the beginning of our assembly line. All these materials are precut by the manufacturer, so we don't have to do any cutting here. It saves time," says Michael Haller Jr., project superintendent with Walbridge.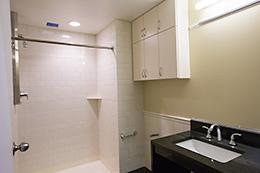 The bathrooms are constructed as a unit and then installed into the Munger Residences. (Photo by Austin Thomason, Michigan Photography)
To piece units together, workers take turns installing copper tubing, gluing, clamping and screwing in brackets to complete wall construction, and installing pedestal sinks, light fixtures and more. Accessible units are among the five types of bathroom units being built in Dexter and shipped to the Munger Residences site.
Nils Vitso, Walbridge project director, says modular construction, popular for some time in Europe, is gaining favor in the United States.
"We're catching up pretty quick. Typically, completed units are purchased from a manufacturer, but we're manufacturing the modules with local contractors because it was more cost effective," he says.
Smith says there are other benefits to producing modules locally. The process gives the university more input over quality control, as inspections can be performed by university inspectors during assembly. Should university building managers seek to move the construction schedule forward, they can do so without needing to depend on a module manufacturer's ability to comply.
Haller points out a worker along the assembly line, pulling an electrical line through a port in a bathroom wall structure. "All this work you see is normally done 10 feet in the air. Doing it like this drastically improves the quality and reduces the risk of somebody getting hurt," he says.
To help keep track of the assembly progress, workers scan bar codes on the modular units. The scans specify days and times when key elements have been finished. Green waterproof coating is applied to floors before tile is installed. "Then we flood the bathrooms to 1 to 2 inches and let the water sit for 24 hours. We want to make sure they hold water," Smith says.
Inspections include checks for cracking in the tile or drywall before modules are ready to ship. A punch-list exercise at the facility prior to shipment ensures completion per project documents.
Once the modular bathrooms arrive at the construction site — each averages 6-by-8 feet and 3,500 pounds — they will be hoisted by crane to their locations within the building and the toilet carrier will be bolted down. "At this time, the bathrooms will be complete," Smith says.
With modular bathroom installation finished, the final build-out of the apartments, as well as the public spaces within the building, is next. "This will include walls, ceilings, mechanical, electrical, plumbing, IT infrastructure, millwork and finishes," Smith says.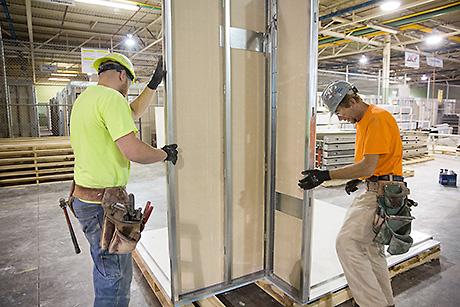 Workers fit pre-cut bathroom walls into ridgesset in the floors of the modular units. (Photo by Austin Thomason, Michigan Photography)
On this day, modular units on trucks are scheduled to leave the facility and travel south on Zeeb Road to I-94, exit at State Street and then north on Packard, before off-loading on Madison Street within the construction site.
The Munger Graduate Residences project will house more than 600 occupants in a unique, high-density, residential-academic arrangement. It is supported by a $110 million gift of securities from investor and philanthropist Charles T. Munger, a U-M alumnus and vice chairman of Berkshire Hathaway Inc.
The gift is the largest single donation to the university in its history. It promotes Munger's vision for a new state-of-the-art residence at U-M designed to foster a community where graduate students from multiple disciplines can live and exchange ideas.