Multimedia designer coaches high-intensity fitness program
After a long day of work, what is better than coming home to relax and unwind? For Julie DuChateau, it's hitting the gym for a couple dozen pull-ups and a 200-pound-plus deadlift.
DuChateau, senior multimedia designer at the Stephen M. Ross School of Business, has always been athletically driven. "I've been a runner since I was 12 or 13 years old," she explains. "Over the years, I have picked up a variety of other athletic activities, from mountain biking to kayaking. I've loved it all."
Ten years ago, she wanted to try something entirely new. She decided to get involved in CrossFit. Crossfit.com describes their program as "constantly varied functional movements performed at high intensity. All CrossFit workouts are based on functional movements, and these movements reflect the best aspects of gymnastics, weightlifting, running, rowing and more."
The programming, although challenging, is scalable for individuals of varying physical ability and experience. Coaches help athletes modify each workout based on safety and ability.  "Our programming is scalable for those who have never worked out to those who are elite athletes."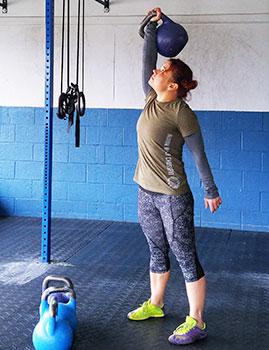 Julie DuChateau, senior multimedia designer at the Stephen M. Ross School of Business, participates in CrossFit and works as a weightlifting coach in Ann Arbor.
"Sometimes these workouts are really, really difficult, but you see a change in yourself during the program, both physically and mentally when you push yourself just a little harder than the day before," she says. "Being in top shape allows me to go out into the world and participate in any activity I want on any given day. I can hike the Grand Canyon, kayak or mountain bike without any hesitation or additional physical preparation."
DuChateau has not only participated in CrossFit programs, but also works as a CrossFit Level 1 trainer and USA Weightlifting Sports Performance coach at Huron River CrossFit in Ann Arbor. She coaches all ages, from 13-year-olds to those in their 70s.  
"I love coaching CrossFit because it allows me to help others make positive choices, not only with reaching beyond their physical goals, but also with their confidence, body image and mental strength as well."
DuChateau graduated from Andrews University with a bachelor's degree in digital multimedia, and has been at U-M since 2011. She has been instrumental in designing and developing the Ross School's website and other marketing and communications digital projects.
"Ultimately, I believe any digital interactive design should be developed with the end user in mind. That's what I aim to do every day," she says.
In her free time, fitness remains a priority.
On Veterans' Day this past year, DuChateau finished a GoRuck Tough Challenge. The challenge is a 12-hour, more than 12-mile event that takes place overnight. The class of participants is led from start to finish by Special Forces Cadre, whose job is to test participants' limits, push beyond them, and build the class into a team.
"My CrossFit gym is like a family," she says. "Everyone knows each other, and there is definitely a team atmosphere."
The weekly Spotlight features faculty and staff members at the university. To nominate a candidate, email the Record staff at urecord@umich.edu.
DuChateau is also on the CrossFit Lily Kettlebell Sport team. Kettlebell Sport involves swinging a weight (her current competition weight is 35 pounds) for 10 consecutive minutes. "I did a lot of kettlebell workouts during CrossFit training," she says. "Eventually I started working out with the kettlebell team and really enjoyed it, so I got more involved."
DuChateau has participated in kettlebell competitions at the local and national levels.
This year, she will participate in two competitions in Michigan through the International Kettlebell and Fitness Foundation.
DuChateau says that the most rewarding aspect of participating in both CrossFit and kettlebell competitions is "the community. The community helps motivate you to show up and be accountable. Everyone has one goal: to become the best version of themselves. It's really a positive atmosphere and everyone belongs."