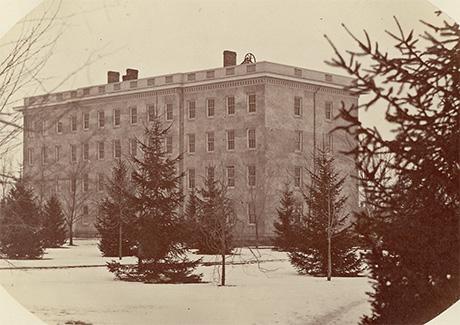 Mason Hall, the first university building devoted to instruction, was known as the University Building when it opened for fall classes in 1841. It served as both a dormitory and classroom facility. (Photo courtesy of the Bentley Historical Library)
 By the time of the university's first commencement on Aug. 6, 1845, the first days of the entering class must have seemed like ancient history. Enrollment had grown nearly tenfold, to 52 students, with a full complement of freshmen, sophomores, juniors and seniors. There were five professors and instructors. The Main Building — now called Mason Hall, in tribute to Gov. Stevens T. Mason — was cramped and an expansion was in the works. That Class of 1845 numbered 11, including four who first stepped forward in 1841. For commencement, speeches were read and poems recited. The Rev. George Duffield, head of the First Protestant Society of Detroit, traveled from the city to be the commencement speaker. He called the graduates "the first fruits of our University so successfully established in this young State, but recently the home and hunting ground of the wild untutored savage." Knowledge, he told them, is not limited to "a privileged class of men," but rather is open to all. A college education does not make one a true scholar, he warned. "The design of academic instruction is not to turn out the perfect scholar, but to furnish the young man with sufficient material and elements to render himself such."
— Adapted from "The First Freshmen" by Kim Clarke. To read more, go to heritage.umich.edu.