Old school: U-M in History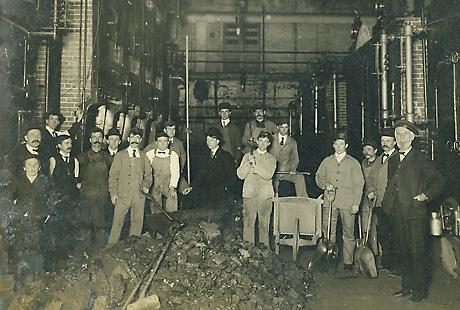 Central Power Plant workers pose in the boiler room in 1917. Fourth from left, in dark overalls and dark shirt, is Chris Stoll, great uncle of Ken Brandt, a plant operations engineer today.
Starting this week and running intermittently over coming weeks, the Record's Old School feature will highlight stories and images that are presented on the new Stories of the Staff website. The site celebrates the history and triumphs of staff, in preparation for the U-M bicentennial in 2017. (Photo courtesy of Mike Pepper)
 This month in history (99 years ago)
The Central Power Plant was erected in 1914 to serve the heating and hot water supply needs of the expanding campus. Coal was delivered to the plant by a small locomotive towing a coal car and was shoveled by hand by staff members known as stokers or "boiler rats." Coal continued to be delivered to the plant by steam locomotive through the 1950s.