Ann Arbor campus earns Tree Campus USA recognition
Continued forestry efforts by staff and students have led the Arbor Day Foundation to recognize the University of Michigan's Ann Arbor campus as a Tree Campus USA institution for the eighth consecutive year.

"This designation provides a way to recognize the aesthetic and functional importance of trees to the U-M community, and the people who keep the campus forest vital," says Kenn Rapp, university landscape architect with Plant Building and Grounds Services.
To achieve Tree Campus status, campuses across the nation must meet five core standards for sustainable campus forestry. Those include: establishment of a tree advisory committee, evidence of a campus tree-care plan, dedicated annual expenditures for its campus tree program, an Arbor Day observance, and the sponsorship of student service-learning projects.
Requirements for Tree Campus certification also support the university's sustainability goals, specifically the community engagement goal and the healthy environment goal to reduce the use of traditional chemicals on campus property.
In 2015, grounds crews across campus decreased the use of traditional chemicals on campus property by 36 percent, just four percentage points shy of meeting its sustainability goal in this area.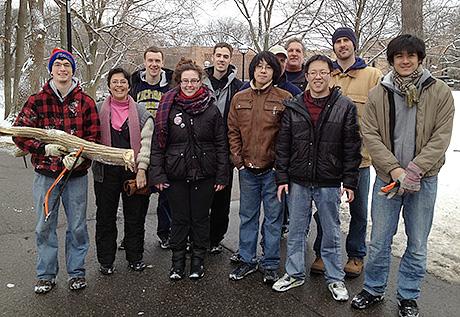 Volunteers working with the North Campus Woodlots Conservation Program helped clear invasive species to improve the biodiversity of the woodlots on North Campus. (Photo courtesy of Plant Building and Grounds Services)
Following guidance outlined in the university's Campus Forest Management Plan, Plant Buildings and Grounds forestry crews continue to manage the campus forest by ensuring quality tree maintenance, proper planting and selection of new trees, promoting species and age diversity, and protecting existing trees. 
More than 500 trees were added to property on the Ann Arbor campus last year bringing the campus tree total to 16,241.
In addition to the approximately 100 trees routinely added each year as maintenance, Plant Buildings and Grounds forestry crew planted a variety of small and large native trees to re-establish a forest at the Bonisteel entrance to North Campus that was devastated by pine wilt disease in the 1990s.
Each year, U-M student-volunteers participate in the North Campus Woodlot Conservation program to help improve the biodiversity of the woodlots on North Campus. For nearly a decade, members of the U-M chapter of Omega Chi Epsilon, the national honor society for chemical engineering, have participated in the program.
Volunteers assist in the clearing of invasive species — such as honeysuckle, garlic mustard and bull thistle — in targeted areas within the 158 acres of the woodlots.  Left alone, invasive species cause harm to ecosystems and can eradicate native species.
Tree Campus USA was launched in 2008 by the Arbor Day Foundation and Toyota. This national program promotes environmental stewardship and the contributions made to make a healthier, more sustainable world.
The Tree Campus USA recognition is a result of ongoing efforts to protect biodiversity on U-M's campus. It supports the university's broad sustainability initiative known as Planet Blue.