A better helmet
The football season may have ended with Sunday's Super Bowl, but the effort to prevent sports-related head injuries continues. In this video, Ellen Arruda, professor of mechanical engineering and biomedical engineering, explains how a shock-absorbing football helmet system being developed at U-M could blunt some dangerous physics that today's head protection ignores.
Midway Madness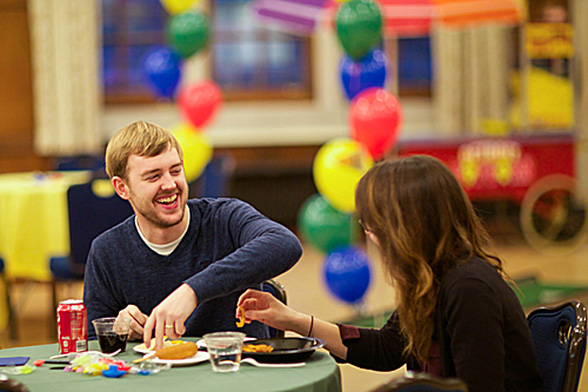 Midway Madness is a rite of passage for second-year law students celebrating the halfway point to their graduation. This slideshow captures some of the fun at this year's celebration, which took place recently in the Michigan Union's Rogel Ballroom. (Photo by Tina Yu)
Makers & Mavericks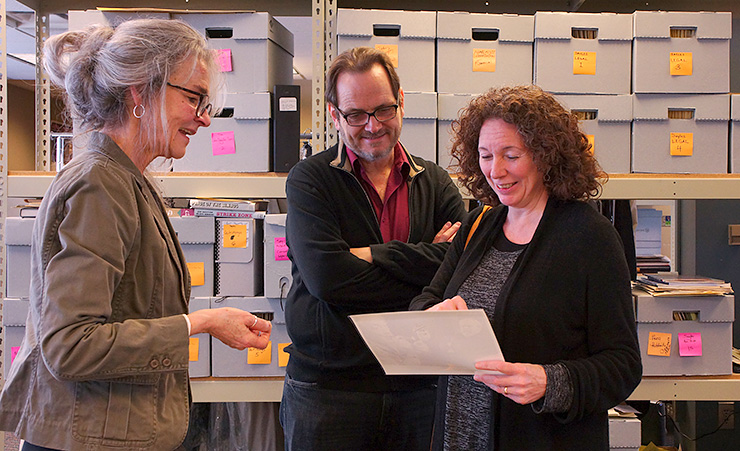 From left, Special Collections Library head archivist Kathleen Dow, Rich Guay and Nancy Savoca look over items at the Special Collections Library, where the Screen Arts Makers & Mavericks Collection is held. Savoca has announced she will donate her personal collection to the U-M library. (Photo by Mary Claire Morris, U-M Library)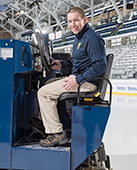 Faculty/Staff Spotlight
"I like to make that sheet of glass. There's only one thing I like better and that's skating on that sheet of glass."
Kevin Bushey, Yost Ice Arena facilities supervisor and Zamboni driver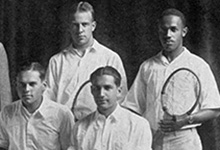 Michigan in the News
Christian Lastoskie, associate professor of civil and environmental engineering, says that life-cycle assessment done in advance with computer modeling can be a useful guide to possible environmental concerns and help a company with its selection of materials.
"With nuclear power accounting for more than 60 percent of the country's zero-carbon electricity and a new generation of technologically advanced reactors on the horizon, the power source is playing a crucial role in the battle to reduce greenhouse-gas emissions," said Mark Perry, professor of finance at UM-Flint.
"Urban deer culls may be warranted, but they demand a rigor in planning that has been absent here. Proper planning assures residents that the cull is warranted and effective; its absence undermines the cull's legitimacy," Jonathan Levine, professor of urban planning, wrote in an op-ed article about the city of Ann Arbor's effort to reduce the deer population.