Agave in bloom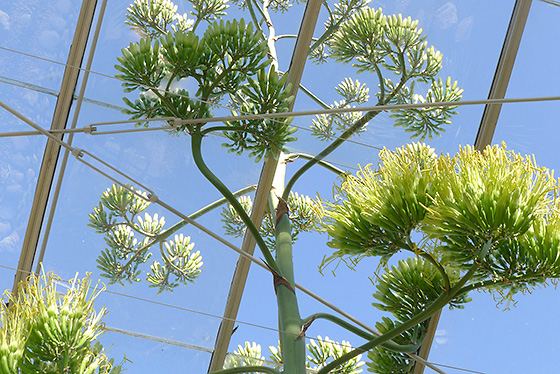 The rare blooming of the American agave plant at Matthaei Botanical Gardens is underway. The more-than-80-year-old plant, which has grown so tall that it pokes through conservatory's ceiling, will bloom and then die, but but not before leaving behind some genetically identical "pups." View an ongoing photo gallery of the agave stalk's progress, and learn more about this intriguing plant. (Photo courtesy of Matthaei Botanical Gardens & Nichols Arboretum)
Decommissioning North Hall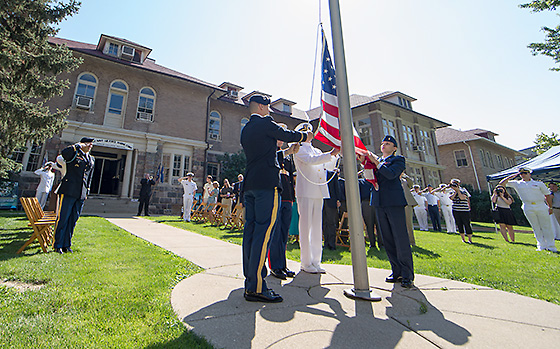 From left, Army 2nd Lt. David Hilden, Marine Sgt. Jeffrey Evans, Navy Ensign Sean Carrigan and Air Force 2nd Lt. Ashley Elliott lower and fold the American flag from in front of North Hall during a July 11 ceremony to decommission the home of the Army, Navy and Air Force Officer Education Programs, which will move to the Chemistry Building and the Ruthven Museums Building. North Hall is set to be demolished to make room for the new Biological Science Building. (Photo by Eric Bronson, Michigan Photography)
Welcome President Mark Schlissel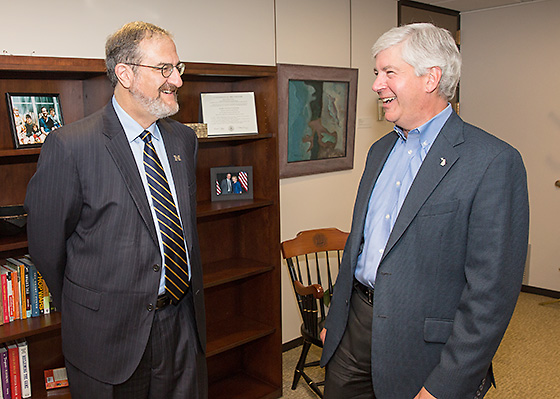 President Mark Schlissel chats with Gov. Rick Snyder, who stopped by the Fleming Building on Monday morning to welcome Schlissel on his first day as U-M's 14th president. (Photo by Scott C. Soderberg, Michigan Photography)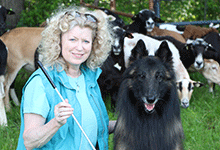 Faculty/Staff Spotlight
"People around here know me as the dog lady. If they have any dog problems, they'll come to me."
Mary Maguire Byrkit, application manager, Information and Technology Services
Michigan in the News
"Johnny was playing this unbelievably fiery guitar, but he was trying to do it within this very traditional context, which was so mind-blowing to most young, white blues aficionados at the time. Any (blues artist) who picked up the guitar after 1968 was influenced by Johnny Winter," said Bruce Conforth, lecturer in American culture.
David Bieri, assistant professor of urban and regional planning, said the rule of thumb that you should spend no more than 30 percent of your income on housing really isn't relevant: "It's essentially an arbitrary number. It creates more distortions than it actually solves."
Research by Barry Rabe, professor of public policy, shows that Americans support a tax on carbon emissions if the money it raises is directly spent on a specific cause, such as research into renewable energy.