Water and health
The Integrated Assessment Center at the Graham Sustainability Institute brings together interdisciplinary research teams, decision-makers, and key stakeholders to develop pathways toward real solutions. This video explains how teams are working in Ghana and Peru to address major water issues.
Strike back at severe weather
As the severe-weather season approaches, university officials would like to remind members of the campus community about important information to help plan for and respond to various weather situations. When severe weather strikes, be prepared to "strike back" by signing up for Emergency Alerts.
Michigan Experience Day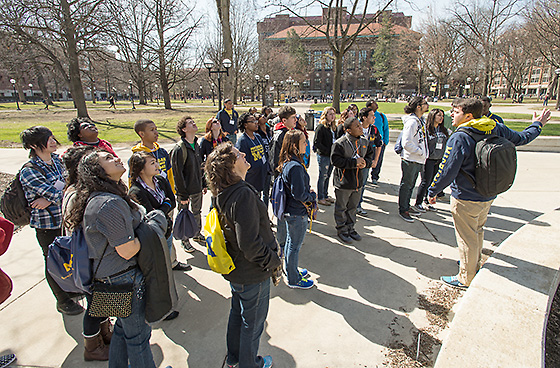 The Center for Educational Outreach recently welcomed 130 top high school students from across the Lower Peninsula for Michigan Experience Day. They visited a residence hall, a classroom lecture, and a roundtable discussion with current U-M students. Ryan Lorch, right, leads an aspiring group of natural science scholars on a campus tour. "We hope to inspire these students to apply to U-M in the fall and inform them of the value of attending college," said CEO Program Coordinator Emily Flinkstrom. (Photo by Roger Hart, Michigan Photography)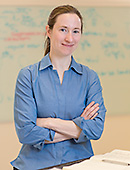 Faculty/Staff Spotlight
"Teaching and mentorship are ways of giving back. I try to participate in events that focus on women in science."
Melanie Sanford, Moses Gomberg Collegiate Professor of Chemistry, Arthur F. Thurnau Professor and MacArthur Fellow.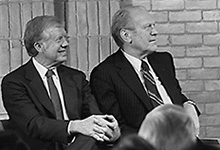 Michigan in the News
Comments by Betsey Stevenson, associate professor of economics and public policy, were featured in an opinion piece on income inequality and the need for flexible workplace family care policies.
David Meyer, professor of psychology, was quoted about the effectiveness of brain-training games that claim to improve cognitive function.
Research by Scott Page, professor of political science, complex systems and economics, on how the power of diversity creates better groups was cited in a story about the dearth of women in corporate leadership positions.