Confronting the climate crisis
"MC²: Michigan & the Climate Crisis" is a weeklong series of events focused around the topic of climate change and how it affects us politically, economically, socially and culturally. In this video, John Vandermeer, professor of ecology and evolutionary biology, and students discuss how the activities will confront one of the most pressing problems affecting the world today.
Home sweet HomeLab
The U-M HomeLab, housed within the Institute for Social Research's BioSocial Methods Collaborative, is geared toward helping researchers study how people interact with their environment — and with each other. HomeLab looks and feels like a complete apartment, but it is outfitted with technology that allows researchers to observe how people live. In this video, Alicia Carmichael, research process manager at the collaborative; Richard Gonzalez, the collaborative's director; and Jacqui Smith, professor of psychology, discuss what happens at HomeLab.
EarthFest 2017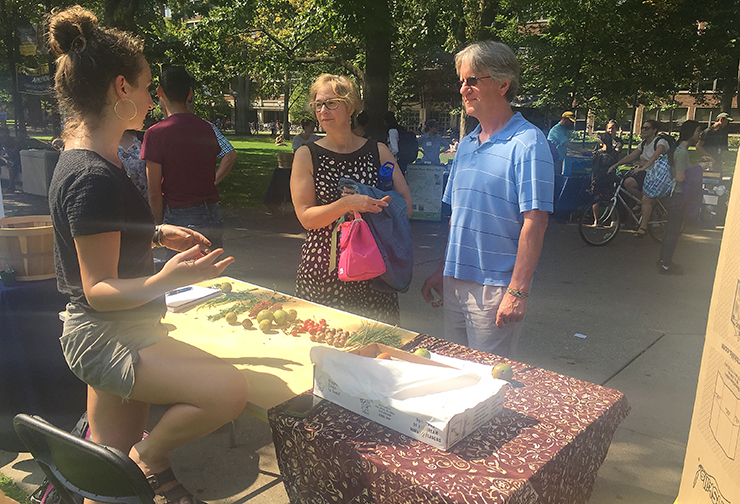 Carmela Marie Brown (center), associate director of new student services and orientation advising for LSA, and Jeff W. Kampf, research laboratory specialist lead for LSA, talk with Madelyn Celovsky about the Permaculture Design Team during EarthFest on Thursday. The annual event, billed as a "party for the planet," focused this year on personal wellness while promoting sustainability initiatives and opportunities. (Photo by Elisse Rodriguez, Public Affairs)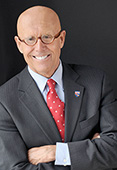 Faculty/Staff Spotlight
"In my work you're always saying hello, then you're saying goodbye. Some of these people become part of you, part of your existence."
Robert Buckingham, UM-Flint professor of public health and health sciences and hospice pioneer.
Michigan in the News
Larissa Larsen, associate professor of urban and regional planning, and of landscape architecture, was quoted in a story about the threat that extreme heat poses to America's urban poor.
An article about how efforts to bring vehicle-to-vehicle communication systems to market have stalled under the Trump administration features comments from Huei Peng, director of Mcity and professor of mechanical engineering.
Rafael Meza, associate professor of epidemiology, says it's important to guarantee the safety of aid teams after earthquakes and other natural disasters: "In order to rescue people, it is necessary to ensure that rescuers are not exposed to dangerous toxic or explosive gases and flammable substances."