First year forward
Starting their first year at the College of Engineering, these students talk about what brought them here and what they hope to accomplish as they embark on a journey to obtain the skills to solve the world's problems.
Armed against the flu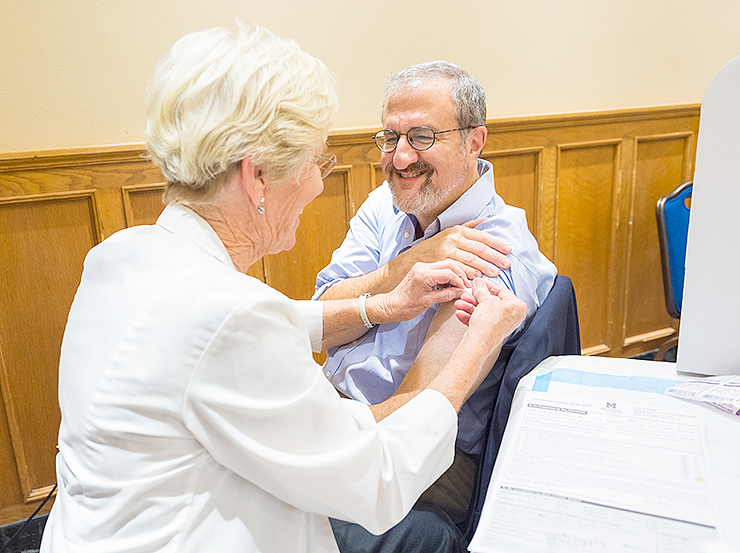 President Mark Schlissel receives his annual flu vaccination from Carol McClure, a registered nurse with Michigan Visiting Care, at a flu shot clinic Thursday in the Michigan Union. The clinic was one of several being conducted across campus during the next several weeks. (Photo by Daryl Marshke, Michigan Photography)
EarthFest 2016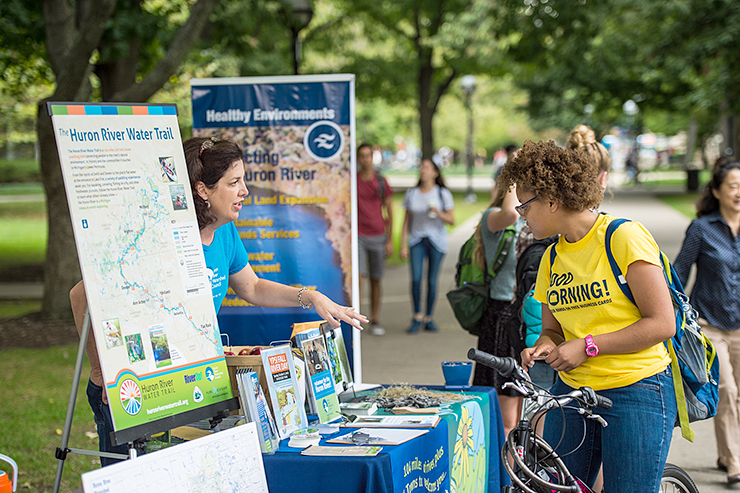 A visitor to EarthFest learns more about the Huron River Water Trail during the annual "party for the planet," which took place Wednesday on the Diag. The event has been celebrated for more than 20 years and is designed to highlight the university's 2025 sustainability goals: climate action, waste prevention, healthy environments and community awareness. EarthFest is organized by students and staff led by the Office of Campus Sustainability. (Photo by Austin Thomason, Michigan Photography)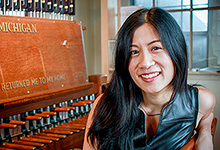 Faculty/Staff Spotlight
"I wanted the keys to the tower and the opportunity to play music that blanketed the whole campus."
Tiffany Ng, university carillonist at Burton Tower and assistant professor of music, on what attracted her to the carillon as freshman at Yale.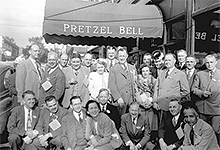 Michigan in the News
Nadine Sarter, professor of operations and industrial engineering, says new technology that could render air traffic control towers obsolete is an idea that comes with many risks and challenges.
"Today, people of color — if not the nation itself — are more willing, if not longing, to accept our particular way of being. … It's an acceptance of who we are, our uniqueness and the knowledge that, yes, in that uniqueness we, too, are America," says Craig Wilkins, lecturer in architecture and urban planning, in a commentary on the Smithsonian's new National Museum of African American History and Culture.
Richard Janko, professor of classical studies, was interviewed for a story about a new computer technique that allows scholars to read a digital image of a charred ancient scroll discovered near the Dead Sea nearly half a century ago.