Drone deliveries
Amazon.com's recent announcement that it hopes to use drone-like "octocopters" to quickly deliver packages raises a variety of questions about the feasibility of such a project. In this video, Ella Atkins, an associate professor of aerospace engineering who specializes in autonomous systems, explores the potential and possible pitfalls of drone delivery.
Meet MARLO
U-M's newest two-legged robot has taken its first steps outside. The machine, named MARLO, is the third-generation bipedal robot for Jessy Grizzle, professor of electrical engineering and computer science. While MARLO's predecessors were connected to lateral support booms and confined to the lab, this video illustrates how the current robot can venture out into the sunlight.
Distinguished Diversity Leadership Awards
These U-M staff members were honored Tuesday as individual recipients of the 2013 Distinguished Diversity Leadership Awards, which recognize the role of staff in furthering diversity at the university. Five staff teams also were honored. From left are Gerald Hoff, Leon Howard, Sharon Lobdell, Elizabeth Studley, Armando Matiz Reyes, Tom Sullivan, Cora Edwards, Jason Davis, Chanel DeGuzman and Lynette Wright. Recipient Henry Meares is not pictured. (Photo by Scott Soderberg, Michigan Photography)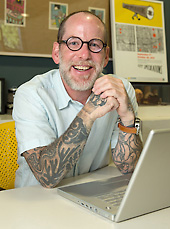 Faculty/Staff Spotlight
"I see heartbreaking things in Detroit, societal breakdowns, failures. … I inform people of that in a visual way. I like to illuminate things."
Stephen William Schudlich, director of exhibitions at the Work•Detroit gallery, on the source of his artistic inspiration.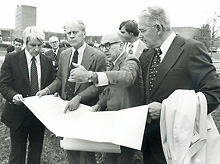 Michigan in the News
David Hsu, research assistant professor of psychiatry, explained how the brain deals with the pain of social rejection.
Describing the phenomenon of highway hypnosis, Sean Meehan, assistant professor of kinesiology, said, "I'm sure most people experienced this on a long trip where they all of the sudden realize they really haven't been aware of what they're doing."
Michael Sivak, research professor at the Transportation Research Institute, was quoted in a story about a rise in gasoline demand, spurred by a recovering economy and cheaper prices at the pump.