Learning from burning
In October, researchers and firefighters established a sixth controlled "burn plot" at the U-M Biological Station near Pellston, Michigan, in a long-running experiment to approximate, on a tiny scale, the lumbering and wildfire disturbances that transformed Upper Great Lakes forests more than a century ago. In this video, researchers explain how burn plots established over the years provide information about how forests recover from such disturbances.
Faster 3-D printing
Researchers at the College of Engineering have developed algorithms to speed up consumer 3-D printers without sacrificing quality. This video outlines the research conducted in the Smart and Sustainable Automation Research Lab under Chinedum Okwudire, associate professor of mechanical engineering. The research was led by Ph.D. candidates Deokkyun Yoon and Molong Duan.
Navigate to Michigan
U-M values the unique experiences and perspectives that veterans and military members bring to the diverse campus community, and it provides the resources and expertise to help them thrive. In this video, student veterans discuss what drew them to the university.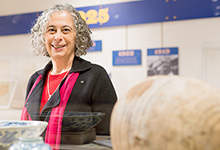 Faculty/Staff Spotlight
"Materials can constantly be tapped for new questions and new techniques. What remains in museum collections is what exists of the past."
Carla Sinopoli, professor of archaeological anthropology and curator of Asian archaeology in the Museum of Anthropological Archaeology
Michigan in the News
Teresa Satterfield, associate professor of Spanish, was interviewed about En Nuestra Lengua, a Saturday academic program that helps Spanish-speaking students develop literacy skills and build pride in the Hispanic community and Latino culture.
While some Trump administration officials argue that additional revenue created by corporate tax cuts would spur enough new economic activity to make up for adding to the federal deficit, Joel Slemrod, professor economics and director of the Office of Tax Policy Research, disagrees: "I think that's very unlikely. The empirical evidence is pretty clear."
Jane Dutton, professor emerita of business administration and psychology, and Wayne Baker, professor of management and organizations, and of sociology, provided advice on ways to cope with a personal crisis that is hurting your professional life.