Cassie Blue
The latest member of Michigan Robotics, dubbed Cassie Blue, arrived in late summer and is ready to help U-M roboticists take independent robotic walking to a whole new level. In this video, Jessy Grizzle, the director of Michigan Robotics and the Elmer G. Gilbert Distinguished University Professor of Engineering, explains how two more joints in each leg not only give Cassie the potential to be better at the independent walking pioneered by its predecessor, MARLO, but it opens a host of new possibilities.
Architecture challenge
Teams of architecture students in an engaged learning workshop called Practice Sessions work with professional mentors over a long weekend to help solve real-world design challenges. In this video, students, faculty and professionals discuss the project, which is funded with a $350,000 grant through U-M's Third Century Initiative.
Floodproofing cities
In this video, Brandon Wong, doctoral student in civil and environmental engineering, discusses how he and his team from the Real Time Water Systems Lab are trying to change not only how a city can dynamically manage water on-site, but also how they can control water. He is working with Branko Kerkez, assistant professor of civil and environmental engineering, to develop "smart" stormwater systems to lessen the impacts of flooding. The project has received a $1.8 million National Science Foundation grant.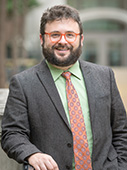 Faculty/Staff Spotlight
"I love the material I teach about and I love my students, and I think they feel that."
Jamie Moshin, lecturer I in communication studies, LSA.
Michigan in the News
"Male-dominated workplace cultures with lots of hierarchy, few women integrated in leadership, and cultures of sexism and silence are the most likely places for harassment … and the first thing organizations like that should do is take a hard look at their own cultures," said Anna Kirkland, professor of women's studies and director of the Institute for Research on Women and Gender.
Alec Gallimore, dean of the College of Engineering and professor of aerospace engineering, and Scott Hall, doctoral student in aerospace engineering, were quoted throughout a story about the U-M-designed X3 thruster, which is being developed for a future NASA mission to Mars.
H. Luke Shaefer, director of Poverty Solutions and associate professor of social work and public policy, says the child tax credit can be improved by expanding it to cover children who live in families too poor to qualify under current rules, increasing the amount families currently receive and giving an additional increase to families with young children.