Fireproofing batteries
U-M researchers have developed an impressive new way to make the world's most popular batteries, lithium-ion, safer and more efficient. In this video, Richard Laine, professor of materials science and engineering, and macromolecular science and engineering, discusses the new method and materials that could be a game-changer in our battery-dependent destiny.
Mail order pharmacy
The Benefits Office is encouraging employees covered under the U-M prescription drug plan to use the mail order pharmacy program program, which provides free home delivery and savings of one-third on the cost of copays for 90-day supplies of many prescriptions. This video illustrates how the program works.
Afterhouse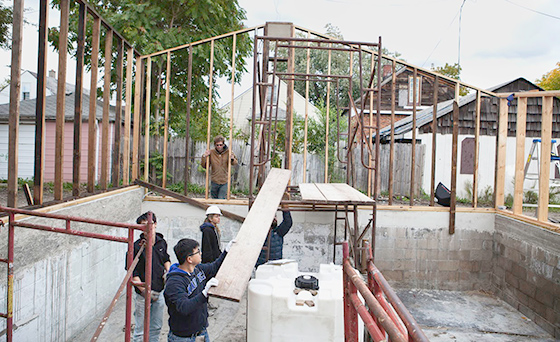 Students work in the former basement of a burned-out Detroit home that is being repurposed as a semi-subterranean, passive geothermal greenhouse that will serve the neighborhood. The basement will hold earth and be the growing area for numerous plants, come spring. Looking on is Steven Mankouche, associate professor of architecture and a leader of the project. Read more about how the Afterhouse project is bringing hope to one urban neighborhood. (Photo by Ali Lapetina)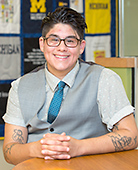 Faculty/Staff Spotlight
"I was really low on money at the time and basically got to eat for free every day, plus the skill is definitely transferrable. I'm kind of a hit of parties."
D. Alvarez, Student Life program manager for The Program on Intergroup Relations, on working as a fromager, or cheese expert.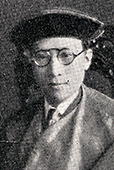 Michigan in the News
"Ebola is jerking us back to the 19th century. It's terrible. It's isolating. It's scary. You're not connecting with other human beings, and you are fearful of a microbiologic time bomb ticking inside of you," said Dr. Howard Markel, professor of the history of medicine, and pediatrics and communicable diseases.
Gabriel Corfas, professor of otolaryngology and director of the Kresge Hearing Research Institute, helped restore the hearing of mice partly deafened by noise, using advanced tools to boost the production of a key protein in their ears.
Michael Combi, research professor and distinguished research scientist in atmospheric, oceanic and space sciences, helped develop two devices on the Rosetta spacecraft that will land a probe on a comet, whose contents may give hints about the origin of the solar system.